Journal of Japan Society of Nutrition and Food Sciences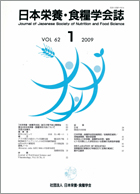 Nippon Eiyo Shokuryo Gakkaishi (Journal of Japan Society of Nutrition and Food Science) is the official membership journal of the society.
It is a Japanese bimonthly journal whose total page for 2019 was 291. It publishes original articles, rapid papers, research notes, opinions, research data, and reviews, which are accompanied by English abstracts. Other contents of the journal include book reviews, commentaries, and lectures.

The journal announces news and notices from the society such as the schedule of scientific meetings and symposia. In addition, it carries external information beneficial to the members: events of related societies, recruitments, research grants, and so on.

Editor-in-Chief : Prof.Takeshi Nikawa (Tokushima University)
ISSN : 1883-2849(Online) 0287-3516(Print)
Published by : Japan Society of Nutrition and Food Science
Production : Shobi Printing Co.,Ltd
Online Journal (Free Access)
Submission Rules

Adobe Reader is free software developed and distributed by Adobe that lets you view and print PDF files. If Acrobat Reader has not already been installed on your computer, visit the Adobe Web site to download the necessary plug-in.